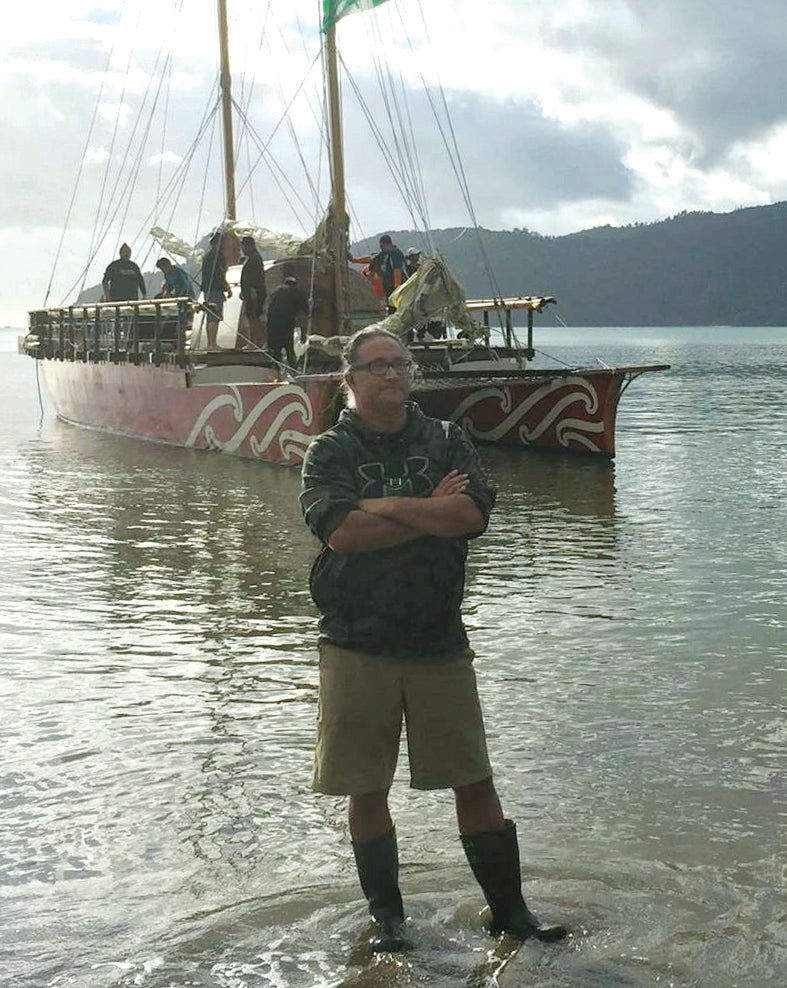 Hoturoa Barclay-Kerr
Hoturoa Barclay-Kerr (Tainui) is the captain of the oceangoing waka Haunui. He is the son of Wharetoroa and Ngarungatapu Kerr, is married to Kim and has five children: Namaka, Turanga, Rangiiria, Noenoe and Hinemanu. Hotu has been sailing around the Pacific for more than thirty-five years. He paddles waka, sails waka, teaches waka.
Hoturoa grew up with his numerous elders who nurtured and cared for him on the many marae of Waikato. He is a native Māori speaker and spent the first six years of his life with the Tuhoe people in Rūātoki, where his parents taught at the Rūātoki District High School. When he and his mother moved to Auckland when he was six years old, he learnt only the English language. Hoturoa recalls how the children laughed and mocked him for his inability to speak English when he started school in Auckland. He was educated at Onehunga High School and went on to study for a BA at the University of Auckland, and a Masters at Waikato University. His Master's thesis investigated how the waka is a symbol of mana in the twenty-first century. He was a lecturer at Waikato University for over nineteen years. More recently he has specialised in education and leadership programmes that use the waka as a platform for learning and development.
Hoturoa is an orator on his marae at Kāwhia, the home of Haunui, and the ancient landing and settlement place of his ancestral waka, Tainui and his ancestor Hoturoa. He is a trustee on a number of trust boards and is currently the chairman of Taharoa C Incorporation, which administers and oversees the mining of iron sands on tribal lands.